Welcome!
The Far South Coast Dressage Association was founded in 1987 by a group of local riders who were interested in dressage and wanted to learn more about the art. This prompted the first protocol day which proved very popular and led to our Club's first dressage competition.
The Club has continued to grow over the years and now offers regular competition days, protocol days, training events and workshops throughout the year, mainly at Cobargo Showground and Bemboka Showground.
We're proud to welcome riders of all abilities and experience – from beginners to Grand Prix.
The Four Clubs Challenge is done!
Congratulations to the winners of the 4CC Challenge Prep, Preliminary, Novice, Elementary and Medium Champions and Reserve Champions.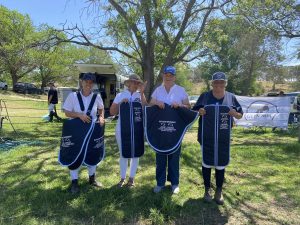 Preparatory Champion: Jane Keevers – Lil' Badger
Preparatory Reserve Champion: Louise Curzon – Dorothy
Preliminary Champion: Emily Neilson – Burrowa Bobbi Sox
Preliminary Reserve Champion: Paige Moxey – Shadow Danseur
Novice Champion: Emily Neilson – Burrowa Bobbi Sox
Novice Reserve Champion: Bridget McCosker – Moët
Elementary Champion: Emerson Sirl – Aloha Silhouette
Elementary Reserve Champion: Indiana Burke – Rubinz MJS
Medium Champion: Kim Kleven – Windermere Lost My Sock
To join the club, get your membership on Nominate.
Spectators and volunteers are also welcome at all our events (especially volunteers!).
The website is being steadily updated through 2023. Please let us know of any problems you strike or errors you spot.